Main content starts here, tab to start navigating
Okoboji Menus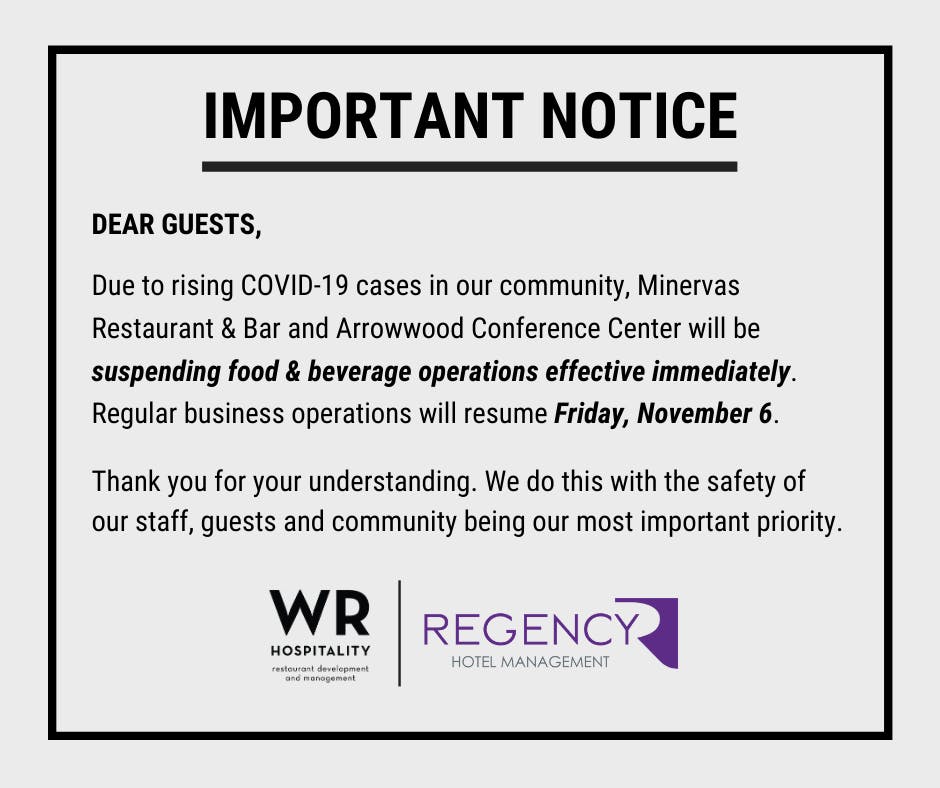 September 23 - October 30
Appetizer
Pretzel Bites

bavarian mustard, blue cheese béchamel

$8
Entrees
Schweinebraten

roasted bone-in pork shank, smoked pork belly, apple, sauerkraut, lingonberry jam, gruyere mashed potato, bacon-brussels

$18

JÄEGERSCHNITZEL

breaded pork cutlet, gruyere mashed potato, bacon-brussels, mushroom cream gravy

$17

Sausage & Bier

a traditional & a smoked bratwurst, german potato salad, braised red cabbage, sauerkraut, carmelized onions, bavarian mustard

$17
Dessert
Apple Strudel

salted caramel, candied walnut, vanilla bean ice cream

$7
CHOICE OF ANY TWO:
Pick-2-Lunch

½ labella flatbread / cup of tomato bisque / seasonal fruit / minervas chop salad / cranberry spinach salad / cajun chicken linguine / chicken alfredo / grilled cheese

$12
Sharables
LABELLA FLATBREAD

mozzarella, provolone, italian sausage, pepperoni, portabella mushroom

$13

MEDITERRANEAN FLATBREAD

tahini aioli, mozzarella, feta, roma tomato, olive blend, pepperoncini & gyro meat

$13

WINGS

Traditional wings, choice of: buffalo / dixie / honey bbq / sweet soy chili

$11

COCONUT SHRIMP

malibu batter, coconut breading, wasabi laced teriyaki

$12

THAI SHRIMP

breaded shrimp, thai aioli, carrot, scallion, dressed spring greens

$12
SOUP & SALAD
Minervas Chop Salad

field greens, tomato red onion, banana pepper, italian olive, genoa salami, parmesan, house italian dressing

$10

WITH grilled chicken $12

WITH grilled salmon $14

Blackened Salmon Salad

Field greens, atlantic salmon, applewood bacon, spicy pecan, sautéed bell pepper & onion, egg, tomato, honey mustard dressing

$14

Cranberry Spinach Salad

spinach, craisin, applewood bacon, red onion, gorgonzola, mandarin orange, spicy pecan, cranberry vinaigrette

$10

WITH grilled chicken $12

WITH grilled salmon $14
Between Bread
Served with choice of chips, fries, seasonal fruit, chop salad (+1), tomato bisque (+1)
Fish Sandwich

Lightly seasoned, flaky fish, house tartar sauce, lettuce, tomato

$13.50

Angus Burger

Certified angus beef® burger, lettuce, tomato, onion, pickle, house bun

$11

WITH cheese $12

WITH applewood bacon & cheese $13

RANCH BURGER

double american cheese, applewood bacon, haystack onion, ranch

$13.50

Southwest Chicken Sandwich

Grilled chicken breast, applewood bacon, pepper jack cheese, chipotle aioli, lettuce, tomato, house bun

$12
Kid's Menu
Served with choice of french fries or seasonal fruit.
Chicken Strips

Breaded tenderloin strips

$7

Mac N' Cheese

A classic done right

$7
Pasta
Served with bread. Add the chop salad (+3)
Cajun Chicken

Pan seared cajun chicken, fresh vegetables, minervas family secrets

$14

Chicken Alfredo

Pan seared salt and pepper chicken, broccoli, garlic, penne

$13

Chicken Carbonara Tortellini

Pan seared chicken, applewood bacon, onion, broccoli, cream, herbs

$14
Signature
Served with Minervas house Italian salad or cup of tomato bisque
Maple Glaze Salmon

Atlantic salmon, pecan brown sugar crust, maple glaze, garlic mashed potato, house vegetable

$24

Angus Meatloaf

House recipe, mashed potato, house vegetable, haystack onion, mushroom marsala demi glace

$19

RIBEYE

12oz ribeye, house vegetable, garlic mashed potato

$30

Montreal Pork Chop

center cut, applewood bacon wrapped pork loin, Montreal seasoning, mushroom demi glace, grilled onion slab, garlic mashed potatos

$20

FIRECRACKER SHRIMP

hand breaded shrimp, thai aioli, basmati rice, scallion, carrot ribbon

$20

HUNTER'S RIBEYE

12oz hunter spiced ribeye, burgundy au jus, caramelized onion, loaded mashed potato

$32
Dessert
House Cheesecake

With Salted Carmel Topping

$6

Chocolate Brownie Soufflé Àla Mode

$7
Family pack includes a loaf minervas french bread and butter, and family style minervas italian salad.
Serves 3-5 guests.
Signature
Served with Minervas house Italian salad or cup of tomato bisque
Angus Meatloaf

House recipe, mashed potato, house vegetable, haystack onion, mushroom marsala demi glace

$68

Montreal Pork Chop

center cut, applewood bacon wrapped pork loin, Montreal seasoning, mushroom demi glace, grilled onion slab, garlic mashed potatos

$78
Additions
Loaf House Bread

$4

Tomato Bisque (qt)

$9

Side Chop Salad

$4
Pasta
Cajun Chicken

Pan seared cajun chicken, fresh vegetables, minervas family secrets

$49

Chicken Alfredo

Pan seared salt and pepper chicken, broccoli, garlic, penne

$49

Chicken Carbonara Tortellini

Pan seared chicken, applewood bacon, onion, broccoli, cream, herbs

$42
Dessert
House Cheesecake

With Salted Carmel Topping

$9

Chocolate Brownie Soufflé Àla Mode

$7
Kid's Menu
Served with choice of chips or french fries
Kids 10 & Under.....$6

Mac 'N Cheese

Chicken Strips